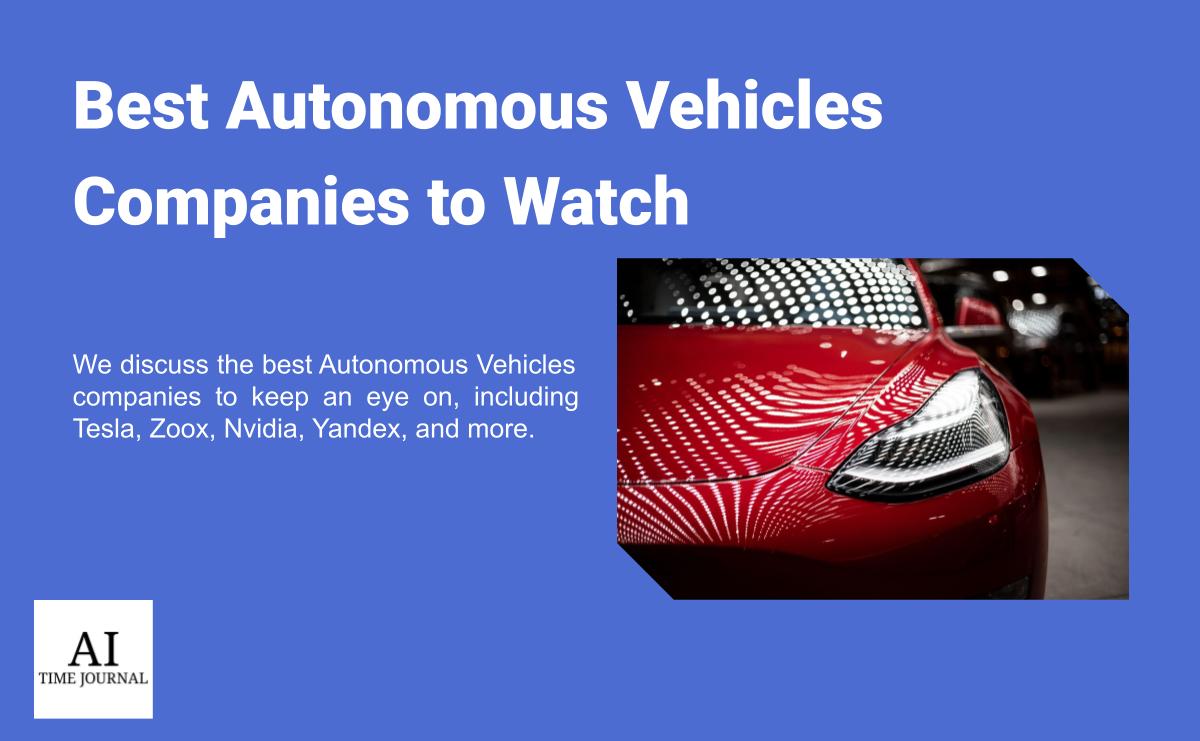 Not everyone loves to drive. Getting in a car and constantly focusing on the road in front of you can take time out of your day. Not to mention the frustration of waiting in traffic. But what if cars could magically drive themselves so you wouldn't have to worry about that?
That's where AI comes in. Even though it seems dystopian in retrospect, autonomous vehicles are impacting our society, and more companies are starting to invest in this new and fascinating technology. As this list focuses on startups and more established self-driving AV companies, this new technology improvement will take off and advance for years to come.
Before we get started, one note on cybersecurity. Even your onboard computer can be infected with viruses. To protect yourself on all fronts, you can use solutions such as VeePN. It can even be downloaded to your car's onboard computer.
If you're interested in autonomous vehicles, you may also want to check out our articles on the best logistics companies and the best artificial intelligence companies to watch.
Here are some of the top autonomous vehicle companies to watch in 2023:
Regarding automated vehicle technology, perhaps the most well-known company is Tesla. Tesla has made a name for itself with their various self-driving automobiles, with cars like the Model S and Model Y being some of the most prominent Tesla vehicles. 
Tesla's self-driving AI includes some of the following mechanics:
An FSD chip powers automated driving and focuses on performance optimization and redundancy.
A Dojo Chip to power the Dojo Systems contains high-power cooling and decision-making.
Neural networks
Evaluation Structures
Along with these intricate capabilities, Tesla's radar and ultrasonic sensors contribute significantly to the vehicle's safety, gauging how far objects are and the distance between other cars. If Tesla is not on your mind regarding automated driving, you must check out this popular company. 
If self-driving cars aim to provide safety to passengers, then Nvidia's automated vehicle technology does just that. With Nvidia's chip technology providing redundancy and fail-over safety, the vehicle will go through many steps to ensure the decision is correct when driving,  for example, planning efficient routes and evading objects on the road.
Additionally, vehicles using Nvidia do not have to worry about eyes on the road with 12 cameras, nine radars, and many other sensors scanning the road for potential hazards. Nvidia's tech can compute at level 4 self-driving, paired with intelligent cockpit capabilities. There is no doubt that this company can produce more significant results soon. 
Learn about the recent collaboration between Nvidia and AstraZeneca.
With over 12 million simulated and real-world miles driven since 2009, Waymo aims to eliminate human error leading to fatal crashes every year. Waymo's vehicles take advantage of real-time sensor data and highly detailed custom maps to know the exact location on the road at all times. 
Either day or night, Waymo's camera and Lidar laser technology can see the world in many views in precise detail. Using the latest server-grade GPUs and CPUs, the onboard computer can make intelligent decisions based on the sensors' information and plan an efficient route for passengers to safely make it from point A to point B. 
By specializing in data annotation for auto-driving vehicles, Automotive Annotation plays a pivotal role in enhancing the precision of AI algorithms used in these vehicles. Their expertise isn't just limited to labeling; they delve deep into image categorization, object identification, and boundary recognition, all crucial components for the safe operation of self-driving cars. Businesses in the automotive domain have increasingly recognized the value of partnering with dedicated annotation services, making Automotive Annotation a company to watch out for in the coming years.
Built for "riders and not for drivers," Zoox offers outstanding automated driving technology to ensure passengers get to their destination. Zoox's implementation of cameras and radars allows the vehicles to see all 360 degrees around and 150 meters ahead of the passenger, not to mention even around corners.
Zoox's technology comes with powerful compute systems paired with redundant backups. According to them, the vehicle will make quick and precise decisions, which is essential for cars on a busy road. The engineers at Zoox strive to focus on the rare error cases in other AVs by using a web editor tool and then simulating a driving scenario. Zoox is a fully-autonomous driving technology that is sure to turn heads as it offers so much for cars. 
Argo.ai's goal, in their own words, is "reimagining the human journey." With leading automotive manufacturers such as Ford, Volkswagen, and Walmart using their Argo Autonomy Platform, it is apparent that Argo.ai has something to offer in terms of autonomous vehicle software. 
Established in 2016, Argo.ai's software contains highly detailed 3D maps capable of safety and street awareness, such as the ability to decipher traffic signs and speed limits. The AI can also essentially emulate the feeling of being inside a natural driving car as it brakes and steers the vehicle. Argo.ai's goal when founding the company is to replicate the driving experience with AI, as the vehicle can operate on its own and as a part of a fleet using machine learning and computer vision. With many more exciting features, such as conforming to multiple vehicle types and a propriety laser system for safe self-driving, Argo.ai is a company to pay close attention to.
Most recently, a member of the Autonomous Vehicle Industry Association (AVIA), May Mobility has established itself as a leader in self-driving automobile technology. In partnership with state transit industries and cities, May Mobility has given over 300,000 autonomy-enabled passenger rides using their customizable AV service, making a great impact in the industry. 
According to the company, using Multi-Policy Decision Making (MDPM) is essential to create quality automated vehicles. May Mobility's technology offers sensor technologies, including LiDAR, radar, and multiple cameras. Each shuttle with these autonomous driving capabilities ensures a clear 360-view of its surroundings. As Toyota, Bridgestone, and Tokio Marine are partnered, the company's goal has become greater, unlocking insights for better and cleaner cities.
Based out of China, Momenta aims to replace in-cabin drivers with a fully autonomous vehicle solution. Using their Flywheel and Two-leg strategy, Momenta's AV technology implements its data-driven algorithms to ensure efficient and cost-effective results. 
Using massive data, Momenta's tech can also cover realistic driving scenarios as if an actual human was driving the car (without the human error, of course). Recently, General Motors invested $300 million into the company, making Momenta a startup to keep an eye on. 

Making decisions faster than the human brain, Cruise AVs can predict and react to moving objects such as animals and pedestrians. How is the vehicle able to see its surroundings? Perhaps the 40+ sensors and complete 360-degree view help the vehicle maintain safety.
Cruise's latest project, The Cruise Origin, can soon change the automated vehicle industry with their car built without mirrors, pedals, or steering wheels. With popular companies backing Cruise, such as GM, Walmart, Honda, and Microsoft, it's apparent that this company is making quite the impact in the AV industry.
Regarding automated driving technology, Pony.ai strives to create safe driving software using deep learning capabilities. Planning to mass produce robotic trucks in China, Pony.ai is a startup that wants to make an impact in the world of AI.
Pony.ai's technology contains many modules that help it stand out in the crowd. From map and location implementations that are so accurate, they can pinpoint locations down to the centimeter, to planning and control capabilities to maneuver around complicated road scenarios. Pony.ai is undoubtedly a company to watch for as they push the boundaries and create tech that can take on any road situation. 
Related articles